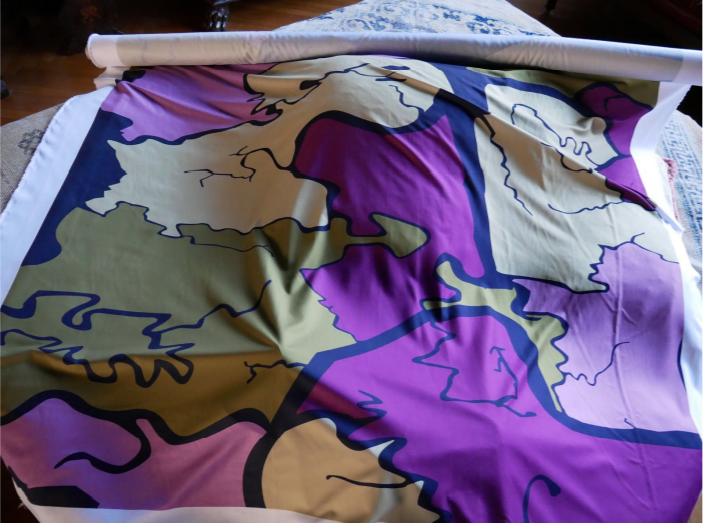 Muevete Muevete Barena is the first materialisation of a broader project blending didactics and contemporary art produced by We are here Venice and developed by Collettivo Barena Bianca (Fabio Cavallari and Pietro Consolandi).
The event is devised for Scuola Elementare Canal and will develop in a workshop for fifth grade kids culminating in a brief walk from Zattere to Campo Santo Stefano, in the historical centre of Venice, where kids will hide underneath a long textile snake (30 x 1.5 m) holding it above their heads. This action is connected to the waves of the lagoon, metaphorically bringing the barena (saltmarsh – a typical and vital micro-ecosystem of the Venetian lagoon) into the streets of Venice, moving through locals and tourists, palazzi, calli, bridges and campi. The kids, and thus the population, will then become prominent and impossible to ignore, just like the high tide.
The fabric is printed with a pattern designed and directly thought up from the shape and colours of the barena in Campalto (North lagoon) and will represent the manifestation of this typical but disappearing element of the lagoon within the historical centre, between San Marco and Rialto, a fundamental crossroad for Venetian mobility. Once in Campo Santo Stefano the kids will be invited to take part in a playful activity in which the material will be deconstructed and recomposed, encouraging them to think about different ways to re-use it.
The preliminary work for the parade is connected to education, with two lessons in which the students will be shown different aspects of the artists' work and told of the problems connected to the lagoon and its ecosystem, particularly using the barena as a symbol. All this will lead to the parade on 23rd October from Palazzo delle Zattere (V-A-C Foundation) to Campo Santo Stefano through Rio Terà Foscarini and the Ponte dell'Accademia. At the end of the activities, each kid will receive as a gift a fragment of the material (148 x 37 cm), thus sharing and activating the lagoon with an object that can be re-used, re-imagined and re-composed according to the child's will and imagination.